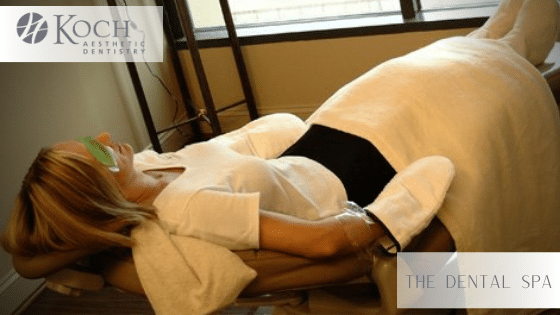 15 Jun

Koch Aesthetic Dentistry: Cosmetic Dentistry in a Spa-Like Atmosphere

Not many people enjoy trips to the dentist. Most people dread visiting the cold, uninviting rooms with fluorescent lighting where they are asked awkward questions about their lives from disinterested dental hygienists. At Koch Aesthetic Dentistry, we want to change all of that by offering a unique cosmetic dentistry experience for full-smile makeovers in a soothing spa-like atmosphere.

Koch Aesthetic Dentistry provides a relaxing, stress-free environment. We are not like your typical dentist's office where patients are treated like cattle and rushed in and out. We take great care to alleviate anxiety and fear of going to the dentist by providing focused attention to each individual's needs. We also provide treatment for various dental-related issues, such as TMJ, using the most cutting-edge techniques and technologies.

Read on to learn more about the high-class dentistry you can expect when you visit our office.
What is a full-smile makeover?
A beautiful smile is more than just a cosmetic feature; it is an essential first impression that can make a huge difference in your personal and professional life. Not only does a great smile dazzle those around you, but it goes a long way to boost your confidence and quality of life.
A full-smile makeover at Koch Aesthetic Dentistry offers an extensive range of safe and natural-looking cosmetic dental solutions for misshapen, discolored, or missing teeth. Our boutique dental spa will help you achieve the confident and beautiful smile of your dreams.
Our cosmetic dental options include teeth whitening, porcelain veneers, porcelain crowns, dental implants, and more. With a full-smile makeover, we conduct a smile analysis with each patient in a relaxing atmosphere and get to know their needs and desired outcomes. 
Implants
Dental implants are an aesthetically pleasing solution for replacing missing teeth. With this high-tech cosmetic application, Dr. Koch places an artificial tooth root in the jaw to hold the replacement tooth. Dental implants do not rely on neighboring teeth as a bridge does, and they replace missing teeth naturally without dentures or partials.
The result is a tooth that looks and feels like a real tooth – you may even forget you had a missing tooth!
Porcelain Veneers
Porcelain or dental veneers are one of the most popular cosmetic dentistry options available today. Porcelain veneers are tooth-colored porcelain shells that are bonded to the fronts of your teeth to create an engaging smile that is both durable and easy to achieve. Our custom-designed veneers create natural, youthful smiles that fit your facial structure, gender, and personality.
At Koch Aesthetic Dentistry, we allow you to test drive your veneers with "previews" that we will tweak to ensure they are the right size, color, and shape for a natural and beautiful smile. Once we get the veneers to look precisely the way you want, we do what is called "seating permanents," which is only done when you are perfectly happy with the look and feel of your veneers.
Sedation Dentistry
Sedation dentistry is a solution we offer if you have fears of going to the dentist, extremely sensitive teeth, or don't react well to standard numbing medications. Our staff genuinely cares for our patients' comfort, and sedation dentistry allows us to provide a relaxing and comfortable dental experience.
From dental implants to laser dentistry, sedation dentistry is a great way to take care of overdue dental work or multiple dental procedures. With this sedation, you take a pill provided by Dr. Koch and enter a sleep-like state but remain conscious. You will be unaware of the procedure taking place, and most people don't remember it once the sedation wears off.
A Dentistry Experience Like No Other
At Koch Aesthetic Dentistry, you can expect a unique experience where your needs and concerns are addressed on an individual basis. Our staff takes care to ensure you enjoy a soothing atmosphere so relaxing that we are known locally as "The Dental Spa."
Not only is our office ambiance unique, but we also provide cosmetic and aesthetic dentistry utilizing the latest technology and techniques. Dr. Koch has been practicing dentistry for over 30 years and has maintained his office dedicated to aesthetic and implant dentistry for over a decade. You can expect nothing short of the highest quality aesthetic dentistry and service from Dr. Koch and the entire staff at Koch Aesthetic Dentistry.
---
Interested in a full-smile makeover? Schedule a cosmetic dentistry consultation with Koch Aesthetic Dentistry near Mountain Brook, Alabama, today!
We will be happy to answer any questions you may have about cosmetic dentistry or a particular cosmetic dental procedure. Feel free to visit our Birmingham, Alabama, office just down the road from patients in Mountain Brook. You can also schedule an appointment by giving us a call, or fill out the form on this page and we will contact you. Get started on your way to a smile that dazzles!