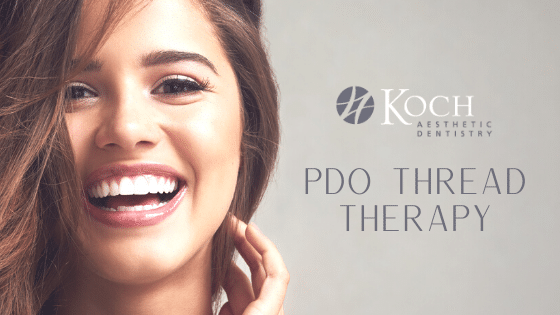 15 Oct

Enhance Your Smile With a PDO Thread Facial Treatment

At Koch Aesthetic Dentistry, we stand apart from your typical dental practice—we're a full-service dental and aesthetic spa. Your comfort and care are our highest priorities, and we offer many treatments for a complete full-smile makeover. One such service we offer is solid filler PDO smooth thread therapy. We use this versatile treatment for addressing a variety of cosmetic concerns on the face.

At Koch Dentistry, we recognize you may have many questions before doing a treatment. We hope that this blog helps you feel more confident in understanding how using PDO smooth thread therapy can enhance your beautiful smile.
What are PDO Threads?
PDO threads are synthetic surgical sutures consisting of polydioxanone. Surgeons use this naturally-absorbable material to assist in the healing process for surgical wounds and heart surgery because it allows collagen and fibrous tissue to form around the sutures. Due to the nature of this material, we can utilize PDO threads for a wide variety of purposes in aesthetics.
How are PDO Threads Used in a Full-Smile Makeover?
A gorgeous smile involves more than just having a set of pearly white teeth. Your whole face plays a part in captivating others with a joyous expression. PDO smooth thread therapy is a versatile treatment that addresses a range of cosmetic concerns to enhance your smile for beautiful results.
With solid filler PDO smooth thread therapy, we use this synthetic material to encourage natural collagen production in different areas of the face. These tiny threads promote a controlled healing process that provides an immediate lift to facial areas plagued by sagging skin, fine lines, and wrinkles, including lip and smile lines. This therapy is also very beneficial for increasing facial volume. We often use PDO threads in conjunction with dermal fillers and Botox injections.
Reduce Acne Scarring
PDO threads are a highly effective and highly favored treatment option for reducing the appearance of acne scars. We place the threads under and around the scars, and they go to work promoting collagen production and smoothing the skin.
Typical treatment requires three rounds of PDO thread placement. During the procedure, we do everything we can to maximize your comfort. Afterward, you may feel slightly sore in the target area, but this will subside after a few days. You will start seeing the effects after about a week, and you will see the best results at six weeks.
Lift Sagging Skin
PDO smooth thread therapy tightens and lifts the skin on the face. This treatment is especially effective for lifting the skin to improve sagging jowls, return chin definition, and enhance cheek contour. We may use PDO threads in conjunction with a dermal filler for maximum results. Every patient is different, and we will work with you to develop the treatment plan that will help achieve your desired results.
Reduce Wrinkles
For wrinkle reduction, we insert PDO threads at the subdermal level. The skin responds with "controlled healing," which promotes new collagen generation and tightens the skin. This treatment is excellent for addressing several problem areas:
Glabellar Lines: horizontal lines above your eyebrows.
Frown Lines: vertical "11s" between your eyebrows.
Marionette Lines: lines that appear from the corner of your mouth down to the chin.
Nasolabial Folds: lines that emerge from the side of your nose down to the side of your mouth.
Oral Commissures: downturned lines at the corners of your mouth.
Solid Filler PDO Smooth Thread Therapy at Koch Aesthetic Dentistry
Koch Aesthetic Dentistry provides a range of aesthetic treatments in an inviting boutique atmosphere. We ensure every patient who visits our dental spa is comfortable and receives thorough consultation for a beautiful full-smile makeover. If you are interested in our concierge dental and aesthetic services, schedule an appointment and begin your journey to an amazing, captivating smile today.