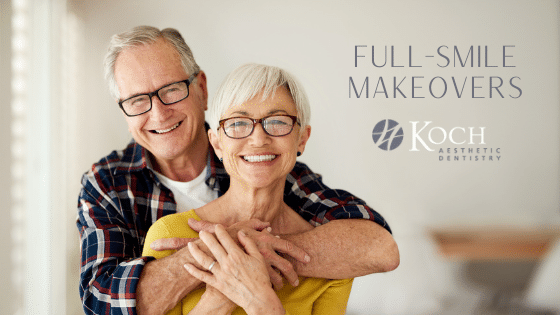 04 Dec

Full-Smile Makeovers at Koch Aesthetic Dentistry: What Our Patients Have to Say

Your smile says a lot about you. A nice smile is your opportunity for a first impression, because It portrays confidence, or lack thereof. The quality of your smile can also be a symbol of status and success. Beyond that, a healthy smile can mean a lot in a person's quality of life. At Koch Aesthetic Dentistry, we provide full-smile makeovers and dental care that make a difference in many people's lives.

In this blog post, we share some of the stories and kind words from our patients that speak to our mission of compassion, education, and staying on the cutting-edge to provide every one of our patients with excellent results and amazing smiles. 
Genuine Care and Comfort
Many people dread the dentist because a lot of dentist offices are cold places with staff members and dentists who don't take the time to get to know you and your needs. Many of our patients have been to other dentists like this. They come to Koch Aesthetic Dentistry and are so surprised by how they are treated and how comfortable they feel when in our office and under our care. We genuinely care about our patients and helping them get results for a better standard of living. 
Kind Words from Our Patients
"Dr. Koch is a compassionate, caring, extremely talented dental surgeon who 'gets it.' He is also very accessible and a fine, decent human being. Dr. Koch and his staff go to great lengths to ensure patient comfort at all times during procedures. " – Virginia B
"I met Dr. Koch in 2006. I was pretty unhappy with the way I had been treated at another dental clinic, so I was not expecting much from anyone. I was so pleasantly surprised by the concern that his staff showed me, and the level of care that I received far exceeded my expectations." — Susan S.
"Dr. Koch and his staff are fabulous! They give you the best dental experience you could ever ask for. They all have a passion for their work! Would recommend them to anyone!" — Kerry D.
Education and Expertise 
It's a bad sign if you cannot get the information you need from your dental care provider about your issues and the procedures used to address them. We believe that the more you know, the better. That's why we make sure every patient gets the education and guidance they need to feel comfortable about their next steps.
One example we have of how this made a difference was with a recent TMJ patient. Susan B. was able to find some information on our website about her issue and visited our office for more answers. She was pleasantly surprised by how much we were able to guide and educate her about TMJ and the solutions we had to offer. 
Susan's Testimonial
"Dr. Koch is the bomb! I went in not knowing what to expect with his practice being a "dental spa," and I needed a TMJ specialist. His website had all the right information on TMJ. I was in so much pain that I said I would give it a try. I was so impressed by the whole staff. It is truly an educated spa!! Dr. Koch was very knowledgeable about TMJ, and we started on our journey. Along with TMJ treatment and some dental work, I am now as good as it gets. Dr. Koch has guided me and educated me on the information I need to get better. He spends all the time you need to feel comfortable with your treatment, and his staff is always nice, friendly, and happy to help."
Latest Technology and Cutting-Edge Techniques 
Our primary purpose is to help people achieve the best smile possible and the best dental health. We are always up to date on the latest technology and cutting-edge diagnostic tools to provide the level of care our patients require no matter what dentistry issue they are facing. 
Elizabeth is a patient who came to Koch Aesthetic Dentistry when no one else could properly address and solve her dental problems. We were able to help Elizabeth because of our extensive experience and technology at our disposal and because my staff and I truly care about our patients' outcomes. We understand how important an individual's smile is to their well-being and quality of life, so we did everything we could to help her regain her confidence and smile happily again. 
Elizabeth's Full-Smile Makeover Story
"I was born with Hypodontia, the developmental absence of one or more teeth. In other words, one of my permanent teeth never came in. Consequently, I had a baby tooth until I was 20 years old. It was a major insecurity for me as it was a glaring imperfection right in the middle of my smile. 
I had seen several dentists in the Birmingham area that all gave me the same disappointing news– there just wasn't enough space to fit an implant in the space between the roots of the teeth on either side of what was remaining of the root of my baby tooth. I don't know all of the dental terminology, but basically, everyone told me that not much could be done about my situation without me having to get braces again for another 2 or more years. I had already endured braces for two and a half years, so I was intent on finding another answer. 
I did extensive research online for other dentists in the Birmingham area who could potentially help me, and when I found Koch Aesthetic Dentistry on google and read all the positive reviews, I decided to schedule a consultation. It is now two years later, and I am so glad that I did! 
Dr. Koch was the first dentist to take on my tooth and explore all of my options with me. Equipped with all of the latest technology and techniques, Dr. Koch and his amazing team were able to give me the implant of my dreams! Finally, I am so happy with my smile! I am so thankful for Dr. Koch & his team, and I have taken the time to write this review in hopes that it will help someone out there looking for help just like I was when I came across Koch Aesthetic Dentistry!" 
— Elizabeth Hamm
Learn More About How Full-Smile Makeovers at Koch Aesthetic Dentistry Can Have You Smiling with Confidence
There are many things about Koch Aesthetic Dentistry that make us unique, and we're very proud of all the things that make us so special. We've written a lot about how we offer a comfortable spa-like atmosphere, and we strive for a level of service and expertise that is second to none. If you'd like to learn more about our boutique experience and the expert care we provide, contact us today.