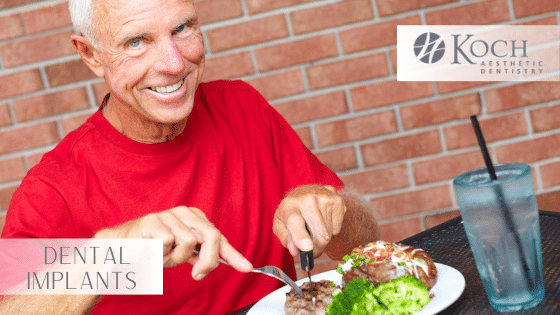 15 Jul

Dental Implant FAQs: Answered by Dr. Koch

If you have tooth loss, either from periodontitis or congenitally missing teeth, you probably struggle with speech and eating the foods you like. Missing teeth can also significantly harm your self-esteem. There are many cosmetic options for enhancing your smile, but dental implants are the way to go if you are missing teeth because they look and feel like your real teeth—so you can feel confident and eat what you want!

Dr. Koch at Koch Aesthetic Dentistry is trained in implant dentistry and has the latest technology to plan and place a dental implant. He answered some of our patients' most frequently asked questions about dental implants. With the answers to these questions, you can be confident that you have all of the information you need to make a decision about your future smile.
What is a Dental Implant?
Dental implants are the most exciting area of dentistry in dental services that we can provide for people. Dental implants are a way that we can have teeth that are natural. It's a way that people can have teeth that they don't take out.
Dental implants are small titanium screws that are surgically inserted into the jaw bone. As the implant area heals, the dental implant is integrated into the jaw bone, securing it in place just like your natural tooth root. A dental crown is attached to the dental implant in the case of a single tooth replacement, and multiple teeth can be placed by securely attaching a denture or partial denture to the dental implants.
(Note: We know this process sounds intimidating! Our office near Mountain Brook offers sedation dentistry so that you will feel relaxed and comfortable throughout your entire visit.)
How Long is the Procedure/Healing Process for Dental Implants?
We use new concepts and technology combined with traditional techniques to provide you with Teeth-in-an-hour™. We utilize CT scan and VR software technology to plan the natural shape of your implant, the implant's exact placement, and to create your new artificial tooth before the surgery appointment. This way, you can be in and out with your new smile.
It will take time for the bone in your jaw to grow and integrate the tooth implant, about 4-6 months. However, by adding platelet-rich plasma (PRP) technology to the healing process for dental implants, we can increase the rate of the healing. Once healing has taken place, you will have a secure, stable root for your new tooth.
Who is an Ideal Candidate for Dental Implants?
Dental implants are great for those who are missing one or more teeth and have good overall health. It is also necessary that dental implant patients have adequate bone in the jaw and don't have any existing conditions that might inhibit bone growth. Jaw bone health is crucial to ensure a dental implant that is integrated securely into the jaw bone.
(Side note: dental implants help prevent bone loss in the jaw.)
What Can I Eat with a Dental Implant?
With dental implants, the teeth are secured so people can eat what they want to. The result is natural teeth that look and feel like your real teeth, and they function the same as well — so you can eat whatever you want!
Why Do You Recommend Dental Implants?
Dental implants are a life-changing alternative to removable dentures and significantly improve your smile and quality of life. Also, dental implants are the most rewarding area of dentistry for me. With all of the different services that we provide and the things we do to help people, receiving a dental implant is the one service that seems to make the most difference.
Before pursuing a dental implant, these patients had given up and had given in to the idea that they will have to live the rest of their lives this way. They'd decided that they're just going to have to give up the foods they love. When we're able to provide a means for them to eat what they want and not have to take their teeth out anymore, it's priceless to see the impact that has on a person's life. This procedure changes their life, and that part is the greatest part of all.
Dental Implants at Koch Aesthetic Dentistry – The Dental Spa
Dental implants are a more complicated procedure than other cosmetic dental solutions. If you are considering implants for your missing teeth, you must choose a dentist with extensive experience with the procedure. Dr. Koch at Koch Aesthetic Dentistry has years of training and experience. He practices the latest methods in surgical and restorative dental implants. At Dr. Koch's dental spa, you can rest assured that you are in excellent hands and that you will leave feeling great with a fantastic smile.

If you're interested in dental implants or have any questions, please give us a call today!