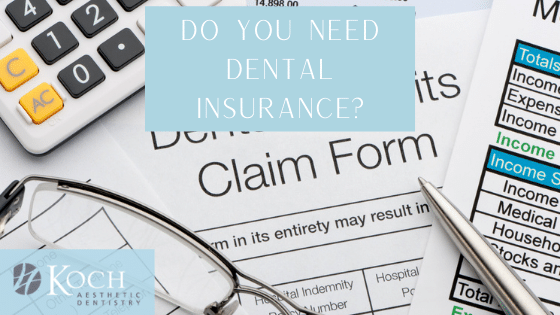 22 Apr

How Important is Dental Insurance?

Regular dental checkups and dental care are essential because your oral health is directly related to your overall health. Dental insurances offer full or partial coverage for procedures like routine exams, dental cleanings, and crowns. But is the monthly cost of dental insurance worth the benefits it provides? Let's take a look at the pros and cons of dental insurance. 
What is Dental Insurance?
Dental insurance is a form of health insurance designed to pay a portion of the costs associated with your dental care. Some employers offer dental plans, but you may have to purchase an individual dental plan if dental coverage is not available at your work. When choosing individual dental insurance, most people look for a plan that they can afford and includes their preferred providers.
The dental insurance's monthly premiums will depend on the insurance company, your location, and the type of plan you choose. Most dental insurances fully cover common procedures like dental cleaning and routine examinations but only partially cover more serious treatments like fillings, crowns, and dental surgeries.
Individual vs. Employer-Sponsored Insurance
Some employers offer the option of buying dental insurance and pay for some of the coverage cost. This is an advantageous scenario because not only will your premium costs be lower, but you will also get a tax break. This is possible because you pay your premiums from pre-tax salary. Individual dental plans are available for purchase for those who'd like coverage but cannot get it through their employers. In this case, the benefit of buying insurance will be based on the individual's specific needs and their projected yearly dental expenses.
Is Dental Insurance Worth it?
In essence, insurance is designed to bail you out of the worst-case scenario. You pay the monthly premiums to ensure that if something serious happens, you will not be fully responsible for it financially.
Dental insurance is a bit different than home and health insurance because of the frequency with which it is being used. In a regular year, most individuals will only get two regular cleanings, exams, and x-rays. If this is the case, you may actually end up losing money by purchasing dental insurance because the cost of cleaning, exam, and x-ray will be lower than the amount you spend on dental insurance that year.
In addition, dental insurance plans often max out at around $1,500-$2,000. Given what most patients end up needing, this number may not be sufficient.
Dental Insurance for Seniors
Dental insurance for seniors focuses more on the types of coverage that seniors may need, like root canals, crowns, tooth replacements, and dentures. While it is true that sometimes individuals of all ages might need coverage for these procedures, it is more likely that seniors will utilize it more frequently. For this reason, dental insurance can be a worthwhile investment for seniors, but it is still essential to do your research. As we mentioned above, most dental coverage plans max out around $2,000, so you have to weigh that against your anticipated spending.
Final Thoughts
Whether you decide to go with a dental plan offered by your employer, an individual dental plan, or opt to pay out of pocket – dental care is of the utmost importance. Getting regular checkups and addressing problems early can help both your teeth and your wallet in the long run. 
Learn more about periodontal disease treatment at Koch Aesthetic Dentistry
At Koch Aesthetic Dentistry, we make sure your teeth are well taken care of, so you don't have to deal with avoidable dental issues and expenses. If you'd like to learn more about our routine exams, cleanings, fillings, crowns, and more – contact us today.