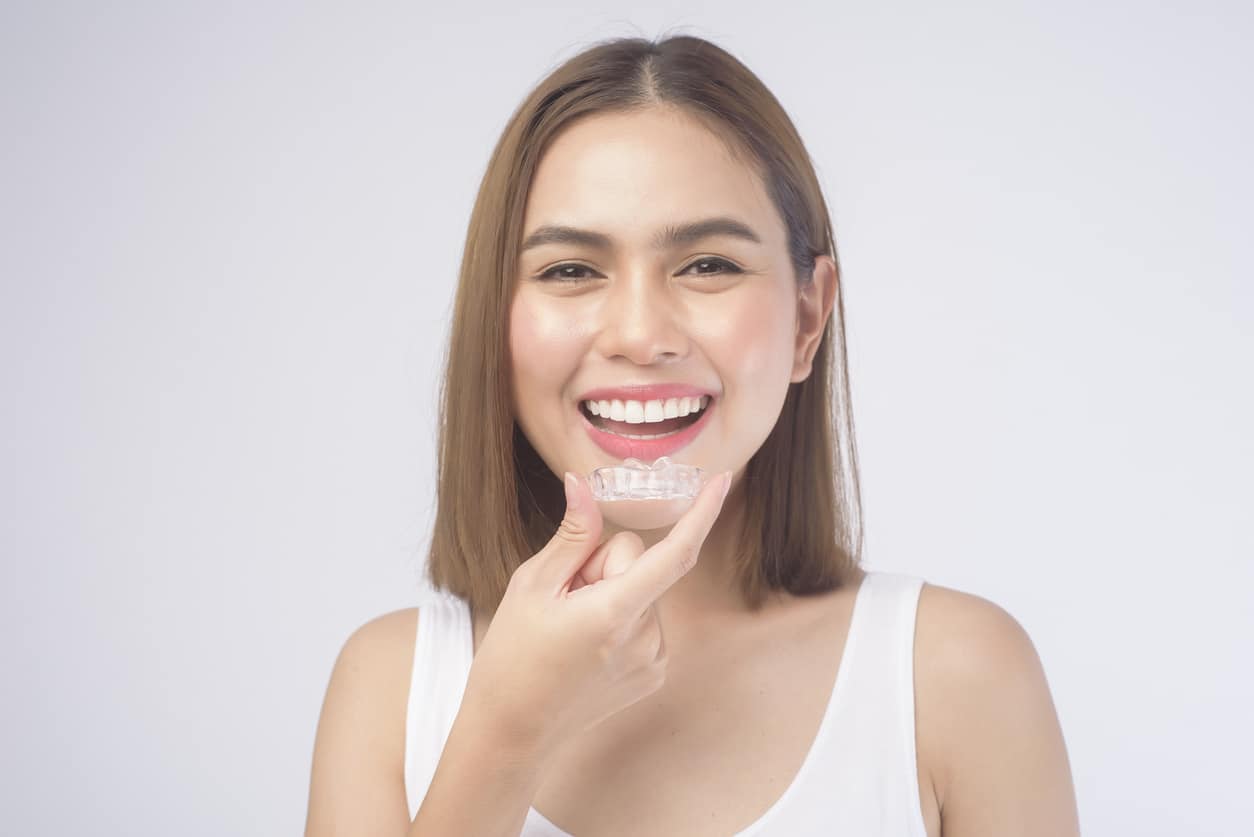 15 Oct

Pain-Free, Straighter Smile with Invisalign

Our middle school and teenage years can be hard enough on their own, complete with awkwardness, hormonal changes, and acne. And the last thing you want is bulky, metal braces to add to the list of uncomfortable things in your life. 

Thankfully, there's another solution for a straighter smile. Invisalign aligners are clear, removable, and comfortable. If you or a loved one are considering braces, you may be the perfect candidate for Invisalign. In this blog, learn more about Invisalign and all its benefits from the experts at Koch Aesthetic Dentistry.
Is Invisalign an effective treatment for straighter teeth?
Most people find Invisalign to be a very effective alternative to traditional braces. Research on aligners has shown that Invisalign can successfully correct mild to moderate alignment issues. Invisalign aligners are a completely customizable, minimally-invasive option to reach your goals. With Invisalign, you can achieve a straighter smile with less discomfort compared to traditional braces.
What is the Invisalign treatment process?
Typical Invisalign treatment will start with a consultation with your dentist or orthodontist, who will evaluate the condition of your teeth and curate a specific treatment plan to transform them. After you approve the treatment plan, the aligners are created from digital scans of your teeth. 
You'll receive 2 custom aligner trays. For the duration of your treatment, you will get new "invisible" trays every few weeks. The number of new aligners and how long treatment will last overall depends on your specific goals. Each day, you should wear your aligners all the time, but take them out to eat or drink. Getting a straighter smile has never been easier with Invisalign!
How long does it take to straighten the teeth?
The length of time will vary depending on the person undergoing treatment. Typically, it can take about 6 months for Invisalign to take effect for mild teeth alterations, but in a moderate to severe case, it may take between 12 months and 18 months for your desired results. Other factors that impact how long treatment will take include your age and your overall oral health routine.
Am I a candidate for Invisalign?
Almost everyone is a candidate for Invisalign! If you have moderate dental problems you wish to treat and don't want to worry about the hassle of traditional braces, you are a candidate for Invisalign. Often, Invisalign is recommended for older teenagers and adults, who are able to maintain good oral hygiene for their clear aligners, but every dental situation varies. 
Can a patient change over from traditional braces to Invisalign?
In many cases, switching from metal braces to Invisalign isn't a problem. However, it is important to note that Invisalign clear aligners are more effective when they are used from the very outset. We recommend you consult your dentist to learn more about your specific treatment, and whether or not you're eligible to switch.
Discover Your Perfect Smile at Koch Aesthetic Dentistry
Since 1989, Dr. Koch has been practicing dentistry and finding the best oral care solutions. His care and attention to detail, combined with a focus on providing scientific remedies, guarantee a highly specialized level of service. Whether you are looking for Invisalign or another dental treatment, Koch Aesthetic Dentistry can help you achieve a smile you're proud of!
Are you interested in Invisalign? Schedule an appointment today!
Straighten your teeth with Invisalign at Koch Aesthetic Dentistry. With over 30 years of experience, Dr. Koch and his team provide quality care every time. If you're interested in Invisalign, call us at 205-649-7537 or contact us online today!