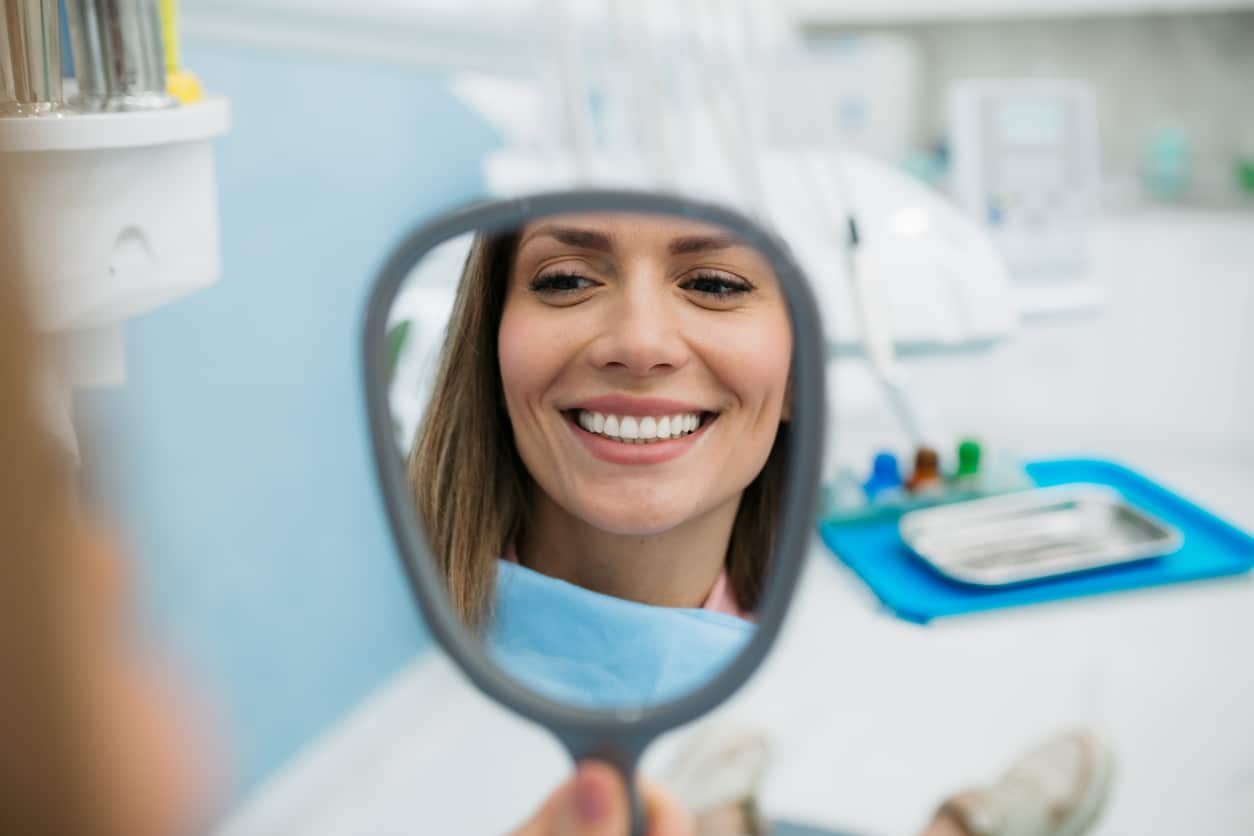 15 Dec

How to Choose the Right General Dentist for You: 5 Tips

Many of us understand dentists are important for basic oral hygiene. They ensure our pearly whites stay in tip-top shape—even if we don't floss each morning and night. But, beyond the basic cleaning, your dentist is your trusted leader for preventative oral hygiene, keeping oral decay and gum disease at bay.

If you've recently moved to a new place or want to switch dentists, you may feel overwhelmed by the possibilities in your area. It can be tempting to walk into the first dental practice you see, but your dentist is an important part of your health journey—so you should choose one accordingly. In this blog, the experts at Koch Aesthetic Dentistry discuss some questions to ask and things to consider as you decide which dentist is right for you.
Learn About Credentials
Every dentist should be either a Doctor of Dental Surgery (DDS) or a Doctor of Medicine in Dentistry (DMD). While the degree name is different, the course material is the same. After graduation, dentists must pass dental licensure exams, and these exam requirements vary by state.
Research Alabama state licenses, qualifications, certifications, and more to learn about your potential dentist. If you can't find this information online, you can call the dental practice and request the information.
Research the Basics
Once you've concluded that your potential dentist is certified and licensed, you can begin researching the basics. While dental care isn't one size fits all, some common questions to ask your dentist or research online include:
Are they accepting new patients?
How far is the dental practice from your work, school, or home?
Are the office hours convenient for your schedule?
What's their appointment cancellation policy?
Do they offer virtual appointments or treatment?
Consider Financial Options
It's worthwhile to be upfront with your questions about finances. You don't want to choose a practice with large upfront fees or extreme cancellation payments. You know your finances best, but some common questions to ask your potential dentist about finances include:
Do they offer payment plans?
How much do common treatments cost? (filling, cleaning, x-rays, etc.)
Is payment due before or after treatment? 
Do they offer dental warranties?
Read Reviews
Once you've covered the technical details, reading reviews can help you understand the dentist on a more personal level. You can find reviews online and see how others in your area rate your potential dentist. 
Likewise, if you have friends or family who recommend their dentist, read about them too if you haven't already. Reading and asking for reviews are two of the best ways to find a dentist that's right for you
Visit & Evaluate
Lastly, we recommend you visit your dentist in person. Depending on the establishment, you may be able to set up a consultation or tour. We recommend you call ahead of time to see what your dentist recommends. If you visit, it's often easy to judge for yourself if you think it'll be a good fit. Some common questions to ask yourself as you evaluate your potential dentist include:
What is the practice environment like? 
Is the staff welcoming and kind?
Does the dental equipment appear well-kept? 
Is the team wearing gloves, masks, and other protective equipment?
Accept Nothing But the Best for Your Dental Care
Choosing a dentist can be overwhelming. With these tips, you can narrow your search to the top dentists near you and find one that's the perfect fit. At Koch Aesthetic Dentistry, we'd be honored to partner with you in your dental journey. From online treatment to financing options to innovative technology, we meet all your dental needs—and beyond. Don't settle for anything but the best when it comes to your dental care; learn more about Koch Aesthetic Dentistry today!
Feel Right at Home in Birmingham, Alabama
At Koch Aesthetic Dentistry, we strive to make you feel at home. With years of experience, Dr. Koch and his team excel at various dental procedures, like dental implants and Invisalign clear braces. If you're interested in learning more about Koch Aesthetic Dentistry, call us at (205) 649-7537 or contact us online today!