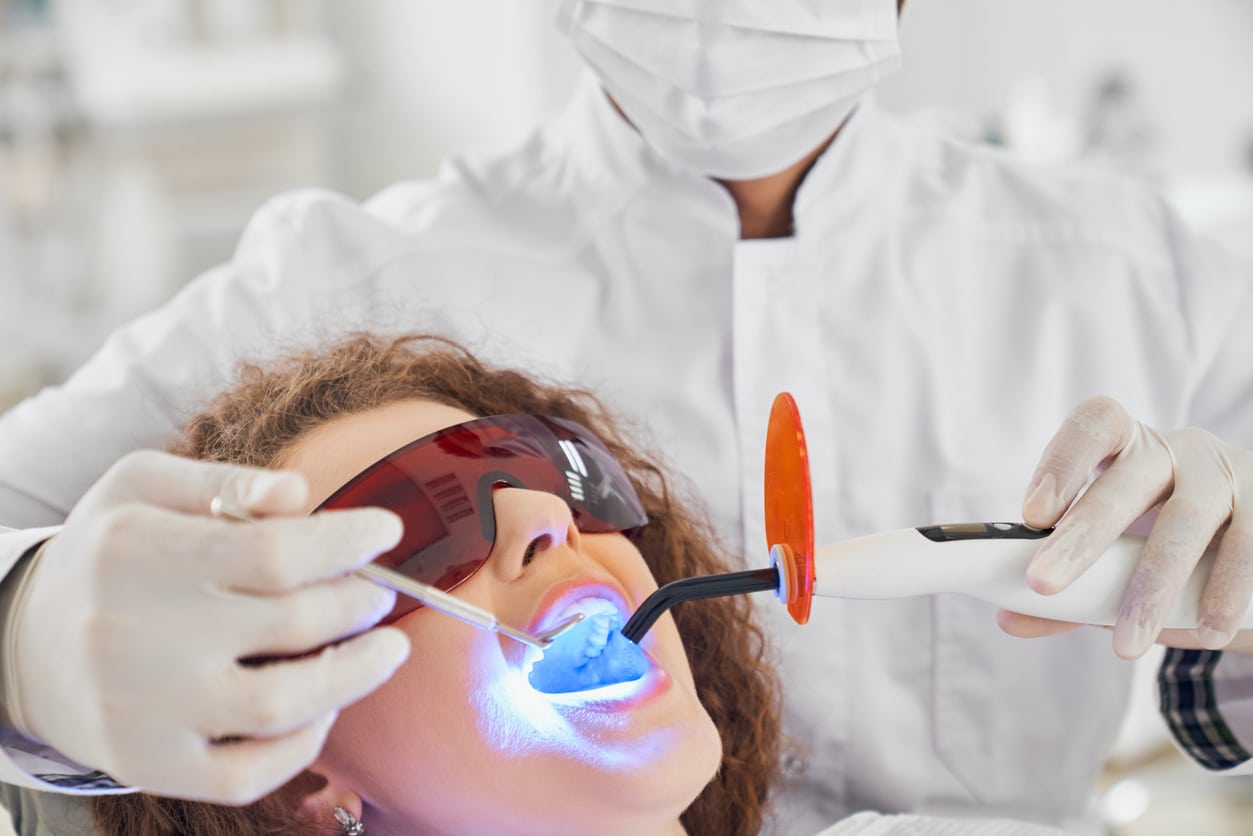 03 Sep

Fast, Painless Dental Treatments with Laser Dentistry

Choosing the best dentist and having regular checkups are the building blocks of a healthy, attractive smile. Regular dental treatment is crucial as it can prevent problems with your teeth and gums and treat any ongoing issues. But did you know there is more than one dental treatment option now available to patients? 

As well as traditional dentistry services, laser dentistry is now also available at Koch Aesthetic Dentistry. In this blog, we will explore the latest and greatest advancement in dental medicine, laser dentistry, and discuss how it compares to typical treatment.
Introducing Laser Dentistry
Laser dentistry is now at the forefront of modern dental practices and provides new and innovative ways to perform procedures like cavity fillings, teeth whitening, and much more. At Koch Aesthetic Dentistry, the ground-breaking practice of laser dentistry is used for diagnostic purposes and in treating dental issues. This new approach uses the latest technology in both cases to deliver incredible results.
Dr. Koch is a leading force in the latest laser dental technology. Right now, Dr. Koch's patients in Birmingham, Alabama are already benefiting from his experience and skill in this new area of dentistry. If you're ready to experience fast, painless dental treatments, keep on reading!
Benefits of Laser Dentistry Vs. Typical Dental Treatment
Typical dental treatment has long helped people to enjoy beautiful smiles and outstanding tooth and gum health. However, traditional dentistry relies on small and large drills to complete most treatments, like cavity fillings and shaping tooth structure. Traditional dentistry can be painful and intimidating for many patients, and the chance of infection can be higher. 
However, laser dentistry enables skilled dentists like Dr. Koch to deliver treatments more efficiently. Laser dentistry offers numerous benefits for patients, including:
Less painful treatments
Faster, more efficient treatments
Earlier detection of dental issues through advanced diagnostics
Shorter healing times
No bleeding or scars on gum treatments
Reduced risk of infections
Less need for anesthesia
Laser Dentistry Treatments
You will find an excellent range of laser dentistry services available at Koch Aesthetic Dentistry. The laser dentistry treatments available include the following:
Early cavity detection thanks to the DIAGNOdent dental laser used for diagnostics
Detecting cavities and carrying out cavity filling
Dental fillings & tooth decay removal without drills 
Gum disease treatment
Gum line recontouring to reduce a "gummy smile"
Cutting-Edge Technology at Koch Aesthetic Dentistry
Experience a range of benefits with cutting-edge technology at Koch Aesthetic Dentistry. From aesthetic treatments to cavity detection, laser technology can treat a variety of dental concerns. Our team is ready to address any general or cosmetic concerns you may have, and help you maintain a bright, beautiful smile. Utilize state-of-the-art dental technology instead of settling for past practices at Koch Aesthetic Dentistry!
Discover Laser Dentistry in Birmingham, Alabama at Koch Aesthetic Dentistry
Diagnose and treat a variety of dental conditions with laser dentistry at Koch Aesthetic Dentistry. With over 30 years of experience, Dr. Koch and his team provide quality care, every time. If you're interested in laser dentistry, call us at 205-649-7537 or contact us online today!