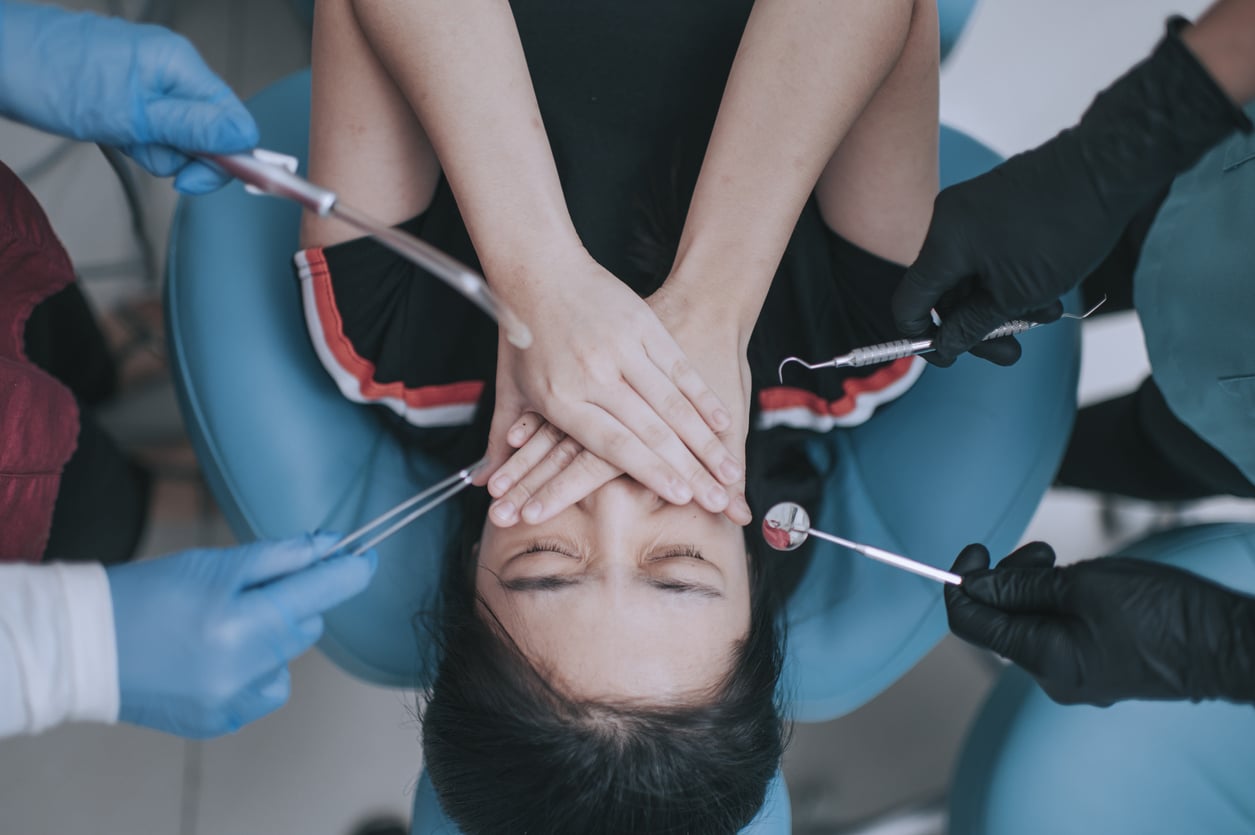 15 Jul

4 Tips to Ease Your Stress and Cope with Dental Anxiety

Going to the dentist is a common fear for many adults. Research suggests that up to 80% of adults in the US experience anxiety when visiting the dentist. Up to 20 percent of patients with this anxiety do not see a dentist regularly, and 10 percent actively avoid seeking help.

Common causes of dental anxiety include:
Fear of pain
Embarrassment
Negative experiences in the past
Fear of needles
Fear of the unknown
Fear of side effects from anesthesia
Dental anxiety can prevent people from seeking advice if they have oral health issues, which increases the risk of complex problems and severe pain. Regular check-ups lower the risk of gum disease and decay, and early intervention can also prevent signs and symptoms from worsening.
Coping with Dental Anxiety: What to Do if you Feel Anxious
At Koch Dentistry, we understand your fears and anxieties around dental treatment. Since 1989, Dr. Koch has specialized in quality care to help you feel comfortable while receiving treatment.
Many patients experience anxiety when a general dentistry appointment is scheduled or when picking up the phone to make an appointment. Our team at Koch Dentistry wants to help calm your worries with these healthy coping mechanisms.
1. Seek Advice from an Experienced Dental Team
Start by seeking advice from a dental team with expertise in caring for nervous patients and those with dental phobia. Look for a clinic that offers additional services to help patients feel more relaxed and comfortable. Ask friends, colleagues, and neighbors for recommendations and read reviews and testimonials online.
2. Talk to Your Dentist
It is common to feel apprehensive about going to the dentist. Many people who experience dental fear are embarrassed or ashamed, making it difficult to communicate openly. Always remember that your dentist is there to help you. If you can speak candidly about your fears and the causes of dental anxiety and share how you feel, your dentist will be able to reassure you and make you feel more comfortable and calm.
3. Try to Stay Calm
Anxiety can cause a raft of symptoms, including sweating, an increased heart rate, butterflies in the stomach, restlessness, and disturbed sleep patterns. If you feel nervous or on edge, it's helpful to try some self-help techniques, such as breathing exercises and meditation. Practice these techniques before going to the dentist, so you'll know what to do if you experience anxiety.
4. Be Open to New Dental Experiences
Most people have dental anxiety as a result of negative experiences in the past. It can be challenging to forget about pain or unpleasant procedures, but trying to be open to new dental experiences is essential. Modern-day dental practices are geared towards providing a positive, enjoyable, relaxing patient experience.
Speak to your dentist and work together to reshape your perception of going to the dentist. There are treatments, therapies, and remedies that reduce anxiety, such as guided imagery, distraction techniques, analgesia, and sedation. You might also feel more comfortable if you have a friend, family member, or partner with you. Talk to your dentist about what option is best for you to improve your dental anxiety.
Ease your Dental Anxieties with Our Team at Koch Dentistry
Koch Aesthetics offers first-class dental care for nervous patients, providing a relaxing experience in a calm, friendly setting. Proudly serving Birmingham, Alabama, Dr. Koch has over 30 years of experience treating patients. Our team prides itself on helping patients overcome anxiety and enjoy better oral health. Give us a call at 205-649-7537 to schedule an appointment today!